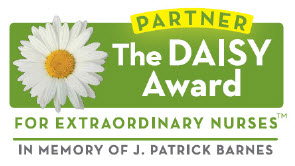 Honor a UVA Health Nurse Leader for the compassion and clinical expertise they provide every day in their patient care!
Who is Eligible for the DAISY Nurse Leader Award at UVAHS:
Any UVAHS Administrative Nurse Leader (Assistant Nurse Manager and above) that holds an active registered nursing license.
Nomination Criteria:
Nominations will only be considered if they include specific examples to describe the professional character and performance of that nurse.
Any clinical acts mentioned in the nomination must be consistent with policies and procedures outlined by the Health System.
What makes an extraordinary Nurse Leader?
Role models compassion and exemplary practice.
Role models behavior perceived as extraordinary.
Creates an environment that fosters care and compassion.
Creates an environment where attributes of trust, compassion, mutual respect, continued professional development, and ethical behavior are modeled and supported.
Motivates team members with a shared vision and enthusiasm to achieve better outcomes for themselves and for their patients.
Accessible, available, and responsive to the needs of others, encouraging critical thinking and problem-solving for individuals and teams.
Promotes and enhances the image of nursing within the organization, the community, and the profession.
Nomination Instructions:
Nominate using the form below, addressing the criteria shown above. Nominations must be a MINIMUM of 300 words. Nominations that do not meet the criteria or word limit will not be considered.
The nomination period will close on Sunday, November 26, 2023 at 11:59pm.
If you have any questions about the DAISY Award, please email Ashley Noguera at avh4x@uvahealth.org.