JUNE 2022 - Our NEW Shared Governance Schematic: UVA Health CNO Kathy Baker, and ACNO Veronica Brill recently debuted our NEW Shared Governance Schematic. Shared Governance has been active at UVA since the mid-1980's. As a teaching hospital, we value learning and improving. We needed our Shared Governance schematic to convey how all three levels of Shared Governance (Local, Regional, and Central) "feed" the work of our committees and groups and also convey that the work of our Shared Governance supports both Patient Focused and RN/Team Focused objectives. Click the video below for the information they shared regarding our new schematic.
You may also click here to view an FAQ document regarding the recent changes.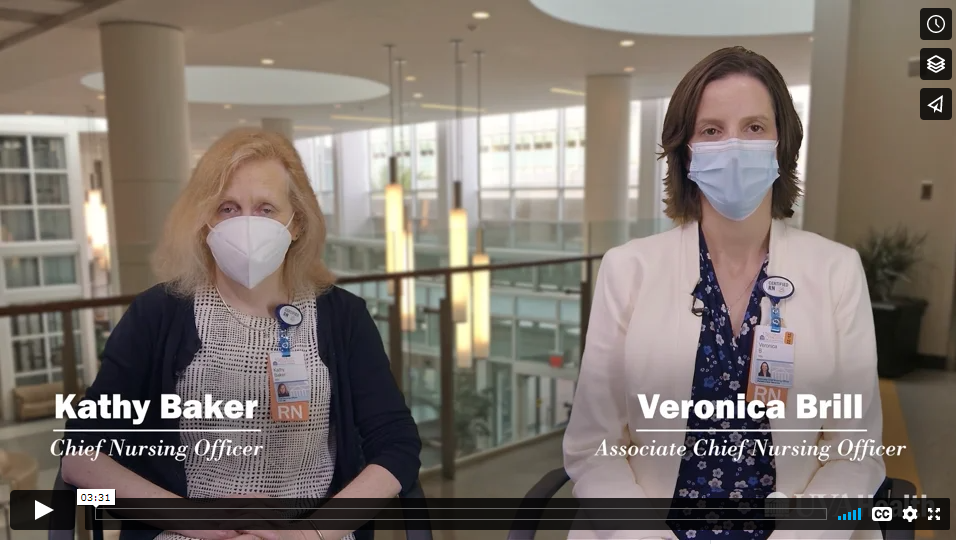 ---
Shared Governance is a shared decision making structure for nursing practice, quality improvement and professional development. It serves as a vehicle for creating and managing change and preparing for a desired future (Porter O'Grady). As professionals, nurses are responsible for the outcomes of their individual work and the shared outcomes of the organization.
The Nursing Professional Governance Organization (NPGO) provides the mechanism for the discipline of Nursing to establish, uphold, and communicate its values and standard within University of Virginia Health. The NPGO has adopted several core documents and texts to fulfill its guiding mission.
Each practice setting has a local Shared Governance committee and connects to regional and then central committees to ensure that the voice of the registered nurse is present in decisions about nursing practice and the practice environment. The NPGO Nursing Cabinet is the governing body of the nursing organization and provides oversight for these committees.
Network with Nursing Colleagues!
If you're trying to network with a GROUP of colleagues on a shared interest, these groups and individuals can help you stay connected. These Email lists are available in Outlook Global Address Book. Please share ideas, best practices, and challenges to resolve collaboratively, whether local or house-wide!
Clinical Practice & Quality issues
- Central Clinical Practice Committee: "CL Nursing Practice Committee"
Professional Development issues:
- Central: "CL Nursing Professional Development Committee"
- Local: "CL Nursing Educational Coordinators"
Research issues:
- Central: Susan Galloway, program oversight; and Elizabeth (Claiborne) Miller-Davis, RN Research Coordinator, Nursing Research Mentorship program (UVA bedside clinicians developing nurse-driven research projects, to bring new knowledge and innovation into nursing practice)
Shared Governance generally:
- Central: PNSO@virginia.edu for NPGO Support Office & Nursing Governance Programs; we can help direct your query!
- Central: Theresa "TJ" Lovdal, 2022 President; & Mesha Jones, 2022 President-elect
- Central: "CL Nursing Cabinet", the highest decision making body for UVA Nursing.